My Favorite Philly Brunch Spots
If you talked to me just a few years ago I would have told you that I absolutely hated brunch. You must be thinking I was crazy but the problem was I just didn't like breakfast foods. The only time I ate anything more than a toasted English muffin plain with no butter and no nothing, was when my family traveled overseas. I just couldn't get enough of that thick cut bacon in London! But back on American soil I was a strictly roll-out-of-bed and grab something quick and easy. I'm still like that on most days unless it's a Saturday or Sunday. Those days are reserved for my growing brunch obsession. There are some great places to go for brunch around my hometown (anybody ever wait in line for an hour or more at PJ's?!) but if I really want to do brunch right, I head into the city of brotherly love, Philadelphia. I've probably profiled a half dozen or more favorite places to eat in Philly by now but I wanted to dedicate a post entirely to my favorite brunch spots. Every time Nick and I hop in the car and head across the river for some delicious breakfast and lunch food, I feel like I'm going on vacation. If I could, I'd make it brunch-in-Philly day every day.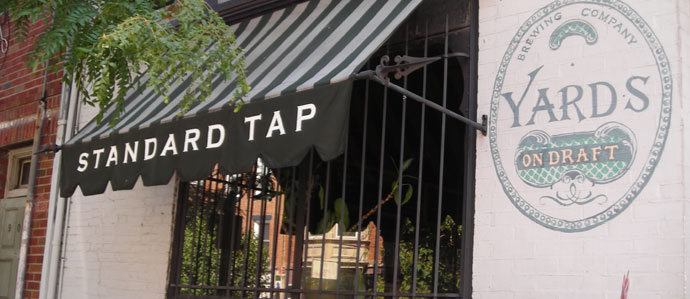 1. Standard Tap. Oh I love Standard Tap. Once you get past it's sometimes pretentious hipster vibe, you'll love it too. Located in the heart of Northern Liberties, it has a distinctly local feel cultivated by the farm-to-table food and local brews on draft. They make some killer brunch cocktails too but I've only heard that as you know I prefer my beer. Sometimes you'll get lucky and they'll be serving up some delicious pork chops or have an amazing omelette. While they do have some recurring items on the menu, Standard Tap's commitment to using locally grown ingredients means that everything is fresh and new and so, so good. Also you have to check out their small side patio off the upstairs bar. It is perfect for all times of the day but especially for brunch drinks.
2. Strangelove's. The thing that makes Strangelove's perfect for brunch is that it feels sophisticated without being stuffy. It just feels right to head in there and plop yourself down at a table or at the bar for delicious huevos rancheros or, my favorite, shrimp and grits. It's owned by the same person who owns Memphis Taproom, Resurrection Ale House, and Local 44 so it always has great beers on tap. Seriously though, the shrimp and grits. Also the artwork. And the beers. Okay, everything about Strangelove's is amazing.
3. Parc. Want to have brunch in Paris? No need to head to the Philly airport, Parc has you covered. I've had every meal at Parc and it never disappoints. It's situated right on Rittenhouse Square with a gorgeous view of the park and all the sophisticated (and not-so-sophisticated) Philadelphia residents walking their dogs and reading their Sunday papers. Parc makes you feel like you've been transported to a cozy bistro in Paris with marble topped tables and wicker chairs and delicious French food. It can get pretty loud inside and so far I've found it impossible to get one of those outdoor cafe tables but I adore Parc in spite of it. It's the cheapest trip to Paris you'll ever take.
4. Jerry's Bar. If you want to feel like you're just a Philly native hanging out in a bar with a classy and delicious twist, head to Northern Liberties and Jerry's Bar. It's fairly new to the neighborhood but you wouldn't know it by how comfortable it feels on its little street corner. It's got a gorgeous marble-topped bar, our preferred seat for brunch, but there really isn't a bad seat in the house. Also they have a little sit patio area that is my other favorite place to sit. I have never ordered anything I don't like at Jerry's except that time I ordered an omelette as big as my face and couldn't finish it. But I still loved it. My only demand for when you go there: order the walnut sticky bun. And then find out what day they'll be serving it for dessert toasted with a side of vanilla ice cream. You'll thank me.
5. North 3rd. Hipster brunch more your style? You came to Philly for the hipsters right? Well, head on over to North 3rd on, where else, North 3rd street in Northern Liberties. It looks like a dark creepy bar inside and well, it is, but it has some great food and great drinks too. Brunch is my favorite because I love their mimosas and also their crispy chicken sandwich is to die for if you don't like the typical brunch foods. Last time we went my friend ordered blueberry pancakes and almost converted me over to being a pancake eater. It can also be highly amusing and/or awkward to eat at North 3rd if they choose to seat you in what Nick and I call "the Boobie bar." Let's just say the back bar has a lot of topless paintings which can make for an awkward brunch with your mom. Not that I know from experience or anything.
6. Kraftwork. I think Kraftwork might have been the restaurant that converted me into a brunch lover. The menu is simple but the food is fantastic. I'm salivating over here thinking about my favorite mushroom grinder. Oh, mushrooms, spinach, and red peppers! Also the french fries! Do you still believe that I'm trying to live a healthier lifestyle? No, well me neither. The thing that makes Kraftwork so much fun for me for brunch is the 21 or so beers on tap. You'll always find something you like and if for some reason you don't then just sip on a mimosa. Also if you're looking for an industrial chic bar with no frills, this is your place.
7. Johnny Brenda's. Johnny Brenda's is such a mixture of places: a fantastic restaurant with outdoor seating, a corner bar with red vinyl bar stools and a pool table, and a music venue. I've never been to a concert there (concerts are held in a room upstairs) and I've spent a few late nights hanging out in the bar area but my favorite time at Johnny Brenda's is always the brunch. When the weather is nice they open up their huge windows and you can watch the Fishtown people go about their business on Girard Avenue. The outdoor seats are also great for when you want to stretch brunch out into a day of drinking in the sun.
After looking over my list I realized I'm featuring a lot of bars in the Northern Liberties/Fishtown section of the city. I can't lie that this is usually the part of the city that Nick and I frequent because there's a bunch of bars in a small area, there's plenty of free parking if you know where to look (and how to parallel park) and the food is never fussy and always good. Other runners-up for great brunch places in the city would have to be Good Dog Bar (center city), Smokin' Betty's (center city), Jack's Firehouse (Fairmount), and Cantina Los Cabillitos (East Passyunk). Hope to see you this weekend in Philly!