A Book That Inspires...
...you to follow your passion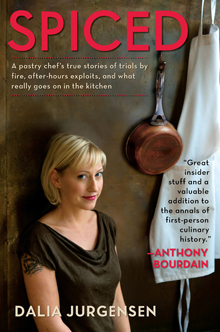 It was a boring Saturday when my boyfriend and I were driving around looking for something to do when we drove by Borders and noticed the big "store closing" sign. That's where I found this inspiring book by Dalia Jurgensen: on a nearly empty shelf for just $2. I bought it on a whim because I just cannot resist a good bargain. I didn't have high expectations for Spiced; at most I was hoping for a fast read that gave me a little bit of insight into a professional kitchen. Instead I encountered a fast-paced memoir of life in the restaurant world that inspires its readers to discover, pursue and always believe in living a passionate life.
Jurgensen chronicles her life as a chef in many of New York City's most famous and successful kitchens. She began her career as the lowest person working pastry at the infamous hot spot, Nobu and worked her way through a career in food doing everything from being a grill chef to a food stylist to a freelance caterer. The book also describes her experience launching two restaurants in the cutthroat NYC culinary world and her rise to head pastry chef in a well-regarded restaurant. Jurgensen didn't get to where she is now without a few burns, literally and figuratively. But one theme remains the same throughout the book: she is passionate about cooking. She expresses at the start her desire to make food a part of her life, even as she put in her hours at a corporate job. Her job, the path she was on, wasn't satisfying her. So she took the plunge into the restaurant world, with the support of her parents but without any formal training and that first job happened to be pastry at Nobu. Yikes! Jurgensen didn't hide that it was hard; she burnt out, she stumbled, she was unsure sometimes but she always, always returned to her love of food to tough out the bad parts.
Finding your passion is an amazing feeling. You find your driving force and point of happiness in your life. Except finding it and then doing it are two different things. What I love about Spiced was that she shows you that following your passion is going to be hard work but it is also totally worth it. She dealt with the male-dominated environment and the struggle to make a name for herself as a pastry chef in the very competitive city. Being motivated by passion might seem like the easiest path to take because the hardest part is figured out. That's just the beginning. Every path has its highs and lows and you have to learn to weather them all. You need to hold fast to the motivation to go forth and live your passion and let it rule your life, just like Jurgensen does with her cooking. You can't merely give a small push to make your passion pay off. You're going to have to jump all the way in. Whether you pick up a frying pan, type out a novel or place beads along a strand, you have to give it your all to make your life work for you.
Spiced is a fantastic story about one chef's successes and struggles in the world of professional cooking. At the heart of this book, she shows you not to be afraid of following your dream, wherever it might lead you. Now think hard about what makes you tick: what makes you happy? And can you make that happen? Despite the ups and downs, doing what you love every day is worth it all. I am working on making my own path and Spiced was just the motivation I need to keep on going.